Athearn HO Parts
K4 Supply Company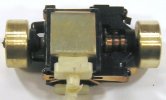 Our Athearn locomotive parts come from a variety of sources. Some parts such as axles gears, coupler clips and motor mounts are often new items. Other parts are reconditioned from distressed locomotives. Used parts are thoroughly checked over for a variety of defects before they are sold. All parts are for HO scale Athearn trains except as noted.
Common repair parts such as motor mounts, coupler covers, and axle gears are new, recently made, never before used items.
Items such as trucks, motors, frames, and shells are obtained from distressed locomotives. They are then cleaned and inspected.
Trucks are disassembled and all gears, axles, and sideframes are cleaned. Worn or broken parts are replaced and wheels are polished.
Motors are checked for excessive vibration, worn bearings, worn brushes, open windings, loose flywheels and universals, and are cleaned and oiled.
Frames are checked for damage or modification. Paint on black frames is retouched as needed. Electrical contact surfaces are polished so all frames can be used in a powered locomotive.
Shells are inspected for damage. Any chipped plastic, aftermarket paint or decals, or visible glue disqualifies a shell from our store. "Scratch and dent" lots of less-than-perfect shells are often auctioned on eBay for all you kitbashers out there.
Generally, our parts are from older blue box diesel locomotives and may not be compatible with the Athearn Genesis line. We often have parts available for such locomotives as the F7, GP9, SD9, GP35, GP50, SD45, FP45, F45, SW7, SW1500, U28B, U28C, PA-1 and others.
We have Athearn parts available in our Bonanza store.